The Oxfordshire Carpentry Company
01235 414972
07821 326341
A Google 5 star company
In business since 1994
"Pauls work is excellent. He is thoughtful in his contributions to design ideas and the finished product looks like it has always been there. wouldnt hesitate to recommend him to anyone who was looking for some quality built in cabinets or bookshelves." Mr. L, near Abingdon March 2022
My name is Paul and I own The Oxfordshire Carpentry Company. With over 37 years as a carpenter I can't say that I have done it all but, there is not much that I have not covered.
​
I offer a complete service from furniture design & manufacturing to repairing that rotten window, fixing the lock on the front door or cutting a roof.
​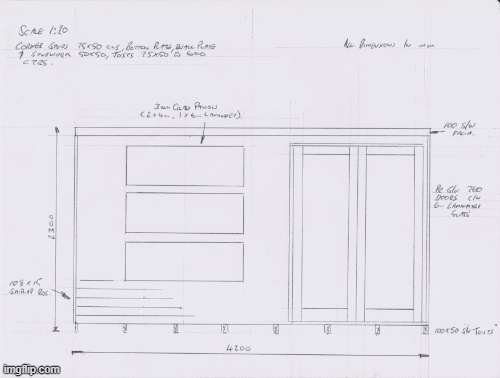 When at all possible I work on my own, I do not have a radio blaring out loud music all day, I am punctual and tidy.
​
I work within 20 miles of Oxford city centre including
Abingdon
Didcot
Wantage
Wallingford
Witney
and all the villages in between.
With over 30 years in the business I know that the secret to a good job and happy clients is simple, communication. I am based in Wantage, England, call me on 07821326341 or email me oxoncarpenter@gmail.com.
My services break down into four main sections;
Bespoke furniture
Carpentry and Joinery
Property Maintenance
Small works
Bespoke Furniture
From the free feasibility study to working drawings right through to fitting you deal with just one person, me.
I will provide a written quotation (not an estimate), manufacture the piece in my workshops and then disassemble for erection in your home. This cuts down on dust, noise and hassel.
​
I make bookcases, wardrobes, workstations, home offices, radiator covers etc
Carpentry & Joinery
Carpenters and joiners work with wood, a joiner is a craftsman who works in a workshop making joinery - windows, doors etc and a carpenter fits them. A carpenter will also cut rooves (install the rafters), construct wooden stud walls, lay flooring, install kitchens, hang doors, fit skirting and architraves and fit locks.
​
A lot of my work now is replacing joinery in keeping with the property's original appearance. This modern oak veneered 1930's style door (shown right) replaced a white "flush" door installed in the 1960's, the fashion then was for streamlining and less dusting.
​
If you look closely you can see that the building has moved somewhat with the head being some 25mm out of level and the right hand jamb 15 mm out of true. A tricky door to hang but it came out ok.
​
Property Maintenance
I always have been a firm believer in repair rather than replace. As can be seen here damp rot can cause no end of problems over the years. After a couple of days up a ladder it was all sorted for another 20 years or so. Of course, I could have made new and replaced the whole window but being a Grade II listed building things start to get rather expensive as drawings have to be submitted and permission granted by the local authority.
Small Works. We all have those little jobs around the house that we will never get round to, door needs easing, the Yale lock is a bit stiff or wobbles in the door, the shelves in the office need putting up etc.
I offer a small works service within the city of Oxford and to the towns and villages south of the city.
There is no call out charge. I charge £60 for the first hour and £50 per additional hour or part thereof. I can cover a lot of niggling jobs within an hour.